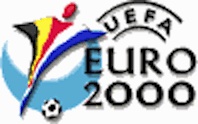 Project EURO2000 from UEFA, is the european football championship in the year of 2000 which is held every four years and organized by UEFA.
This european championship were co-hosted by Belgium and the Netherlands between 10 juni and 2 july 2000.
The final tournament was contested by sixteen nations.
The contests were divided over eight stadiums in the Netherlands and Belgium those were Amsterdam, Rotterdam, Arnhem and Eindhoven in the Netherlands and Brussel, Luik Brugge and Charleroi in Belgium.

Getronics was chosen as contractor for the ICT, I was selected for the function of ICT-manager at "De Kuip" stadion Rotterdam.

The collegiality and atmosphere between the ICT-managers was very good, we were very helpful to each other to achieve our goals.

In total we have 60 servers, 700 PC's, 250 printers to manage, divided over 35 locations.


As ICT-manager, I was responsible for:

◆ ICT operation located in AHOY Rotterdam, Hilton hotel, Sport-hall, Accreditation-centre, Stadion, and Reporters-center.
◆ I was responsible for the availability of ICT-network with printers, scanners, copiers, faxes, and the Internet.
◆ I was directly responsible for 20 employees.
◆ I was member of the Management Team.

The assignment was:
◆ Daily control concerning the operation, planning and management.
◆ Checking the work on locations and testing the connections.
◆ Building the ICT infrastructure on several locations.
◆ Set up the help desk on location.
◆ Employee planning on locations.
◆ Daily problem management and change management.

The daily employee management consisted of:
◆ Progress meetings
◆ Problem management
◆ Conducting evaluation interviews
◆ Planning

With my team, I succeeded in our assignment.
It was a unique experience and a very challenging job, I did it with pleasure.